Techworks Consulting, Inc. Ribbon Cutting Ceremony to Finally Celebrate the Grand Opening of Our New Offices
Press Release
October 28, 2021
Contact:
Susie Henaghan
Marketing Coordinator
631.285.1527 ex 137

FOR IMMEDIATE RELEASE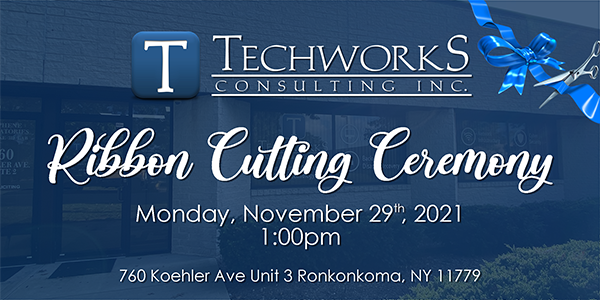 Techworks Consulting, Inc. Ribbon Cutting Ceremony to Finally Celebrate the Grand Opening of Our New Offices
Ronkonkoma, NY – Although we had moved into our office back in November 2019, when the world paused due to COVID-19, our celebration did as well. However, we are delighted to announce, that we are finally holding our official ribbon cutting ceremony on Monday, November 29th, 2021 at 1pm, followed by an open-house, located at 760 Koehler Ave, Unit 3 Ronkonkoma, NY 11779.
We will be joined by Assemblyman Doug Smith and Legislator Tom Cilmi, along with other invitees. After the ceremony, guests will be welcome to food, fun, and all the games that we enjoy here daily at our new office.
Techworks Consulting, Inc. was created by Christopher Coluccio in August 2002. What started as a dream of creating a company that offers exceptional IT services and unique products has turned into a reality of serving multinational companies across the globe. Techworks continues to expand our influence every day and growing as a company while maintaining the important values we were built on.
As a proud member of the Ronkonkoma business community, and member of the Ronkonkoma Chamber of Commerce, our new office includes over 8,000 square feet of space for our ever-growing team! Along with a converted warehouse, state-of-the-art secure storage facility, rec room filled with games for our team to unwind, community kitchen with a fully stocked refrigerator, coffee and tea station, and yes even that bar we're so famous for hosting our Friday 4pm shots!
We cannot wait to spend our special day with all of you!
Register here to attend: Techworks Ribbon Cutting Ceremony
---
A Message from Our CEO:
"I am so happy to finally be able to share our world class facility with our community and partners. Techworks finally has a facility that we believe is equal to the service we deliver and the company we created.
I can think of no better place than the Ronkonkoma business district for us to reside. With this location we can continue our commitment to being Long Island's premier technology solutions provider and keeping technology and talent on the island.
We were so excited when we found such a wonderful space that is centrally located, easy for employee and clients travel to, and provide the extra space for us to not only grow, but also gather together and enjoy each other's company as human beings.
I invite you to join the Techworks team and celebrate our "kinda" new facility together."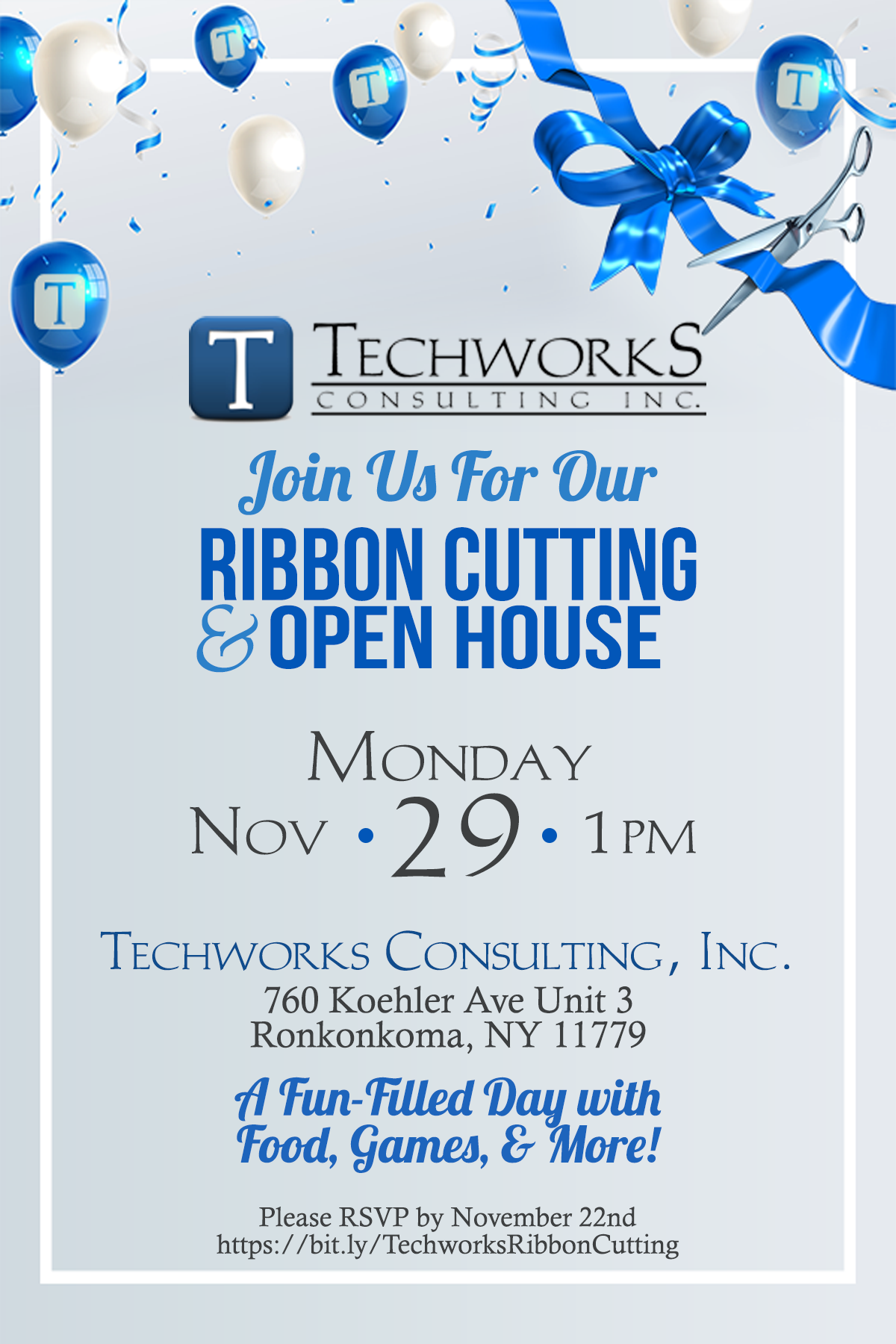 Techworks Consulting, Inc. Ribbon Cutting Ceremony to Finally Celebrate the Grand Opening of Our New Offices