How Our Team Helps Protect Christmas from Krampus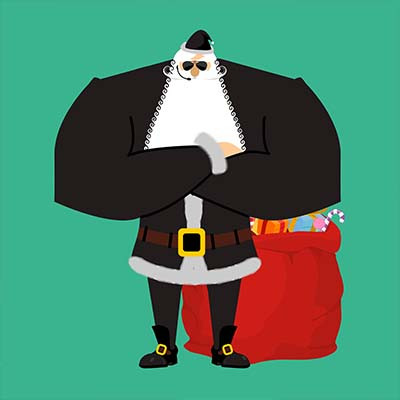 The holiday season has a variety of famous key players, including the likes of Santa, Rudolph, and the rest of the North Pole crew. Each year, they use their magic to help spread goodwill and joy to all the nice children of the world… but did you know that they are also responsible for protecting those who make the naughty list from Santa's villainous counterpart, Krampus?
As the official managed service provider for Santa's operation, we have been cleared to share the story about how we've helped defy Krampus to save Christmas.
Before we begin, it will help to teach those who may not be totally familiar with Krampus a little bit of background about him.
An Introduction to Krampus
As we all know, Santa Claus is the very picture of jolliness. You'd be hard-pressed to find a nicer guy out there. Everything about him, from his rosy cheeks to his big bowl-of-jelly belly really accentuates his giving personality.
Krampus can be safely considered the antithesis of Santa Claus, and many of the elves at the North Pole put some real stock in the story that Krampus is ol' St. Nick's shadow. The ugly old demon has it out for kids, especially naughty ones, and makes it his mission every Christmas to punish those on the naughty list by hitting them with the bundle of sticks he carries with him… and that's what he does when he's feeling forgiving. He's also tried to do a lot worse.
For every bit of friendly and kind that Kris Kringle looks, Krampus is the opposite. Tall and covered in scratchy, wiry hair, his ugly face is framed by the goat-like horns that curl from his head. Naturally, he has fangs, which don't do much to keep his long tongue in his mouth. Matching his horns, his feet are just hooves. Again, he literally carries a collection of branches around to hit children with, and he keeps himself wrapped in chains for some reason. As you might imagine, he doesn't exactly smell nice, either.
He's really just a bad guy, overall.
Krampus' Tactics Have Shifted
Over the years, the gang up at the North Pole has done a pretty good job in minimizing how much harm Krampus has been able to accomplish, but as they've done so, Krampus has become sneakier. Now, in addition to going after naughty children and otherwise interfering with Santa's delivery schedule, Krampus has actively interfered with operations at the North Pole.
He's become a fairly adept cybercriminal, using his talents to disrupt the North Pole's supply chains and otherwise slow production of toys. He's been known to try and phish the elves into opening his infected emails, trying to fool them with supposed "wish lists", or calling up the North Pole directly and posing as parents to try and add additional kids to the infamous naughty list.
This is where we became involved, as the IT team up at the North Pole had more than enough to do without dealing with his incessant attacks. Here's a transcript of one of the calls their team has caught:
NORTH POLE: Hello, thank you for calling the North Pole, this is Boots. How may I direct your call?
KRAMPUS: (in falsetto) Hi there, this is Timmy Johnson's mother. I just wanted to call and let Santa know that he is being very naughty right now.
NORTH POLE: Oh dear, that isn't nice. Let me get the report started. May I have Timmy's full name, please?
KRAMPUS: (falsetto) Timothy Marcus Johnson.
NORTH POLE: And his age?
KRAMPUS: (falsetto) He is nine.
NORTH POLE: Oh dear. Do you have Timmy's official North Pole ID number handy? It would have been given to you shortly after he was born.
KRAMPUS: Uhhhhh…
NORTH POLE: Hello again, Krampus. Nice try.
It should be mentioned that these calls were not always handled so professionally. Before we trained up the elves on how to identify phishing attacks of all kinds, they would frequently skip security measures, like asking for the North Pole ID number, or would be far too trusting while reading emails and falling for phishing attacks in this way.
Fortunately, once these failings were identified, we were able to help resolve these issues. In addition to adding network protections into the North Pole's infrastructure and installing firewalls and spam blockers, we also trained the entire workforce up there how to better identify scams and phishing attempts.
In Addition to Phishing, Krampus Has Tried Numerous Other Tactics
Krampus has also attempted to deliver various types of malware to the Pole's infrastructure through various means. As we mentioned, we've trained the elves to spot his attempts at phishing them via emailed wish lists, as he frequently tries to disguise malicious links as product pages for the requested toys. We've caught a few ransomware attempts that would have started to systematically delete Santa's list if we hadn't checked twice.
Krampus has also targeted the North Pole with more traditional hacking attacks, but we fortunately run periodic penetration tests on their network to identify and resolve any weak points there. We also help to ensure their list remains secure by keeping a verified backup on a separate infrastructure, as well as in the cloud.
Our Efforts Have Been Successful So Far
So far, Santa's workshop has remained secure against Krampus' efforts, ensuring that toys make it into the stockings and under the tree for the children. We're pretty sure that the North Pole also appreciates our efforts, as our entire team has been confirmed for the nice list since we started working with the workforce up there.
Of course, we don't serve the North Pole exclusively. We're also more than willing to assist your business' operations by attending to your IT needs with remote monitoring and management, help desk services, and a variety of other offerings. Give us a call at (631) 285-1527, and until then, have a holly jolly holiday!
Comments
No comments made yet. Be the first to submit a comment