How Your Business' IT Future Has Changed in the Past Year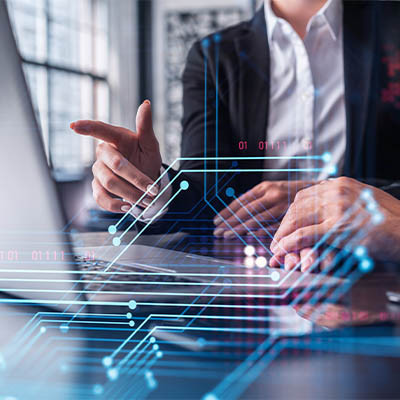 With so much confusion, crisis, and conflict happening over the past year, businesses of all sizes have turned to technology as a necessary means of remaining open. As a result, the perspective many these businesses have of their IT has shifted considerably. Let's explore some of the revelations that organizations have had, and how they'll impact operations from this point on.
Operational Agility is a Prerequisite for Success
At risk of sounding like a movie trailer from the '90s… in a world where many businesses have closed due to the limitations that social distancing concerns have created, the capability to operate despite such restrictions is even more important.
Digital solutions, particularly those supported by cloud technology, are well-known for enabling productivity regardless of where the user may be. Naturally, this can come in handy in numerous ways—not only can isolated coworkers continue to collaborate remotely, but this flexibility also allows businesses to scale their services to better match their needs and budgetary constraints.
As a result, an agile business is better prepared to adapt to changing conditions, making the most of all the situations that it may encounter.
IT is More Than Just Tech Support
Let's take a step back and consider the entirety of the business landscape, including smaller organizations and large corporations alike. Featuring the right technology has proven to be an asset to so many different industries that have helped to sustain some measure of their operations in the past months—and in the same vein, simplified some significantly important processes.
Take the increase in curbside or delivery services by restaurants and stores alike as an example, or contactless payment options that have been more widely adopted (use rising by 150 percent) across the board. Solutions like these have allowed technology to prove itself even more instrumental in powering all aspects of a business' successful continuity—a trend that is not likely to change as restrictions are lifted, due to benefits coming to both sides of any business transaction.
Critical Collaboration Has Continued
While the use of collaborative solutions and communications was already rising before COVID-19 was in play, it is without question that the pandemic accelerated the rate of their adoption by significant measure. Without the ability for team members to simply turn and face their coworkers, reliable tools were needed to enable them a different means to check in with one another.
These events have proven a few key things to businesses and the management behind them. First, it shows that successful operations are possible when dealing with remote assets, so long as these assets possess the tools needed to carry them out. On a related note, it also helped to prove that today's collaborative habits are primarily possible thanks to the IT that we use to power them… to embrace the benefits, the methodologies must be integrated into the workflows.
When all is said and done, equipping a business with the right tools for the task puts it in a better position to succeed, without the worry that some event out of its control will sideline it. As time marches on, it becomes increasingly important to understand and address this simple fact.
Techworks Consulting, Inc. has been here the whole time, ready to assist businesses in identifying, maintaining, and managing exactly the tools they need. To find out how we can assist you, give us a call at (631) 285-1527.
Comments
No comments made yet. Be the first to submit a comment