Tip of the Week: 4 Resolutions for Your Business Technology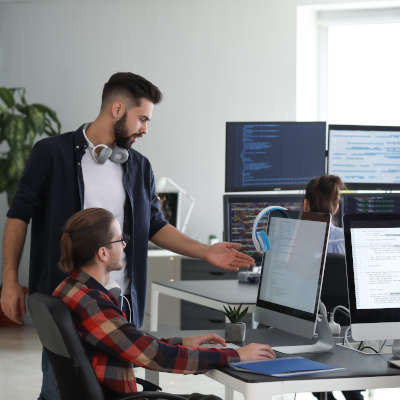 2021 is almost here, and if your business isn't using technology to its fullest capability, you're missing out on some considerable opportunities. Let's go over a few winning strategies that you should adopt in the coming year.
Use the Internet to its Full Extent
The Internet offers businesses of all sizes a huge number of benefits, of all different kinds. Not only can you use social media to interact directly with your customer base, you can also attract their attention and pitch your business as an option to them by maintaining a website.
Operationally, the Internet can also support you by enabling you to access cloud-based services and data storage. The advantages to leveraging these services cannot be understated. With cloud-based software, you aren't committing to repeated investments into your software solutions to make sure they are sufficiently updated and secure. Cloud storage allows you to mitigate the risk of data loss by keeping a copy offsite… a key component to our recommended business continuity planning.
As soon as possible in this coming year, figure out what is out there that would benefit your business the most, and take advantage of it.
Simplify Your Business Management
On the topic, there are many software solutions out there that can help simplify—if not outright automate—many of the processes and procedures that your business relies upon to function.
How well do you track your relationships with your individual clients and customers? How cohesive are the systems that allow you to manage the many facets of your business? Are your team members using the most efficient means to complete their workflows, whatever they may be?
From Customer Relationship Management, to Enterprise Resource Planning, to various other productivity-focused software solutions, your business' operations can be made easier and more productive by embracing the tools now accessible to you. Investigate your greatest needs and find the software that can help you fulfill them.
Be More Secure
Regardless of how much (or how little) your business relies on technology, cybersecurity needs to be one of your biggest areas of concern. Remember how we mentioned solutions that could automate your processes? Cybercriminals have those, too, making no business too small of a threat to pique their interest.
Due to this, you need to proactively establish and enforce security parameters to counter these activities… which will require you to invest in cybersecurity-focused solutions. In addition to this, you'll also need to establish a security policy to match. Enforcing solid password practices, access limitations, and other rules for your team to abide by will result in a more secure business moving forward.
Keep Your Team "In the Know"
Finally, for any of these improvements to take, you need to keep your team updated and bought into these concepts. By focusing on the benefits that these improvements will offer to the business, and by extension their workplace experience, your team will be more likely to adopt them. Without this crucial step, your business' capacity to improve will be limited.
Techworks Consulting, Inc. can directly assist you with many of these steps, in addition to providing our ongoing IT maintenance and management services. To learn more about what we could do for you, reach out to our team at (631) 285-1527. Happy New Year!
Comments
No comments made yet. Be the first to submit a comment