What Reopening Should Look Like to Businesses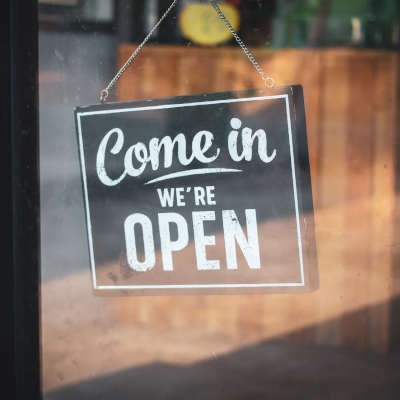 As businesses of all kinds either actively reopen or find themselves swiftly approaching that point, the ongoing status of COVID-19 guarantees that these organizations must carefully evaluate how to proceed. With numbers rising at the time of this writing, it is important that you establish the means to protect your employees from infection and illness.
Let's go over what this will mean for your business' location and processes.
1. Face Masks and Temperature Checks All Around
Common knowledge and good sense have had many people wearing protective face masks for a few months now, with some states mandating it whenever someone makes any public appearance. Don't expect this to change once you're in the office, especially when you're moving about your workplace or using the bathroom. It is possible that you may be able to remove it once at your desk, but only if the recommended social distancing measures can be maintained as you do so.
It is also likely that temperature checks could become a prerequisite to enter the workplace, with anyone displaying a temperature of 100.5 degrees Fahrenheit sent home and advised to call their doctor. These actions will help to minimize the risk of someone potentially carrying the virus into your workplace and spreading it amongst your employees.
2. Staggered Shifts and Floor Plan Changes
Speaking of your employees, it is recommended that you minimize the number of people in the office at any given time by implementing shifts. Rather than everyone working on-site from nine to five each weekday, perhaps you stretch the workweek out to seven days, but with only certain employees working on certain days. Perhaps you adopt, if your processes allow it, more remote operations, allowing your employees to still work from the safety of their own home.
Those workplaces that tout modern innovations like the open floor plan will need to regress back to the cubicle for the time being, to help minimize the potential spread of COVID-19.
3. Adjusted Meetings and Canceled Events
On a related note, meetings and company gatherings are guaranteed to shift. How often have you attended meetings held amongst a few people in a small room, crammed into close quarters? How many people have you chatted with at the office coffee pot? How many office parties or events have you attended?
Moving forward, these kinds of activities will need to be placed under moratorium, at least until a workable resolution to the current health crisis is developed and distributed. Such events are the perfect antithesis to social distancing. Instead, you should shift your meetings from in-person gatherings to online collaborative sessions, and rather than acknowledging birthdays or anniversaries with break room cake, send your well-wishes in an email thread.
For safety's sake, the modern workplace will have to see significant changes if operations are to continue. Techworks Consulting, Inc. can help you make any adjustments to your technology that these changes may require. For more information about the way that we can help you sustain your operations, reach out to us at (631) 285-1527.
Comments
No comments made yet. Be the first to submit a comment